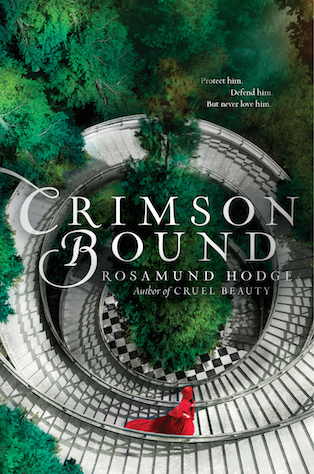 When Rachelle was fifteen she was good—apprenticed to her aunt and in training to protect her village from dark magic. But she was also reckless— straying from the forest path in search of a way to free her world from the threat of eternal darkness. After an illicit meeting goes dreadfully wrong, Rachelle is forced to make a terrible choice that binds her to the very evil she had hoped to defeat.
Three years later, Rachelle has given her life to serving the realm, fighting deadly creatures in an effort to atone. When the king orders her to guard his son Armand—the man she hates most—Rachelle forces Armand to help her find the legendary sword that might save their world. As the two become unexpected allies, they uncover far-reaching conspiracies, hidden magic, and a love that may be their undoing. In a palace built on unbelievable wealth and dangerous secrets, can Rachelle discover the truth and stop the fall of endless night?
Inspired by the classic fairy tale Little Red Riding Hood, Crimson Bound is an exhilarating tale of darkness, love, and redemption.
(This is a standalone novel, not part of the Cruel Beauty Universe.)
---
Review:
I had so many people tell me that I needed to read this book, that it was so good. "The best book this year!" But it was just kinda eh… I love a good retelling, but I was having trouble seeing this book as a retelling of The Little Red Riding Hood. I guess there is another tale that the author used The Girl Without Hands or something, but I have never heard of it so I didn't make that connection.
The only part of this book that screamed Little Red Riding Hood to me what the beginning. A little girl walking on a path in the forest alone. She strays from the path and subcomes to the wolf…. I mean forestborn. She strays and her grandma aunt dies. The only other thing was that her cape, that marked her as one of the king's bloodborn, was red.
After that the fairy tale took a far backseat as the author created this entirerly new world and monsters around you. It was all written so vividly places and some people seemed pretty real.  I loved the writing. That is the best thing that I can say about this book.
I read in a lot of different reviews that the author basically ripped off the characters from her Cruel Beauty book. Thankfully I didn't have that problem, instead I just found myself disliking Rachelle as a character. She is supposed to be this dark hearted bloodborn who has been using her powers for 3 years. Saving a lot of people from monsters that come from the forest. ( I would have loved to learn more about these monsters. Like what exactly they were, how the came to be, best ways to destroy them, anything really. The author could have put that information in during Rachelle's training.) She is just had no confidence in herself. I just kept thinking throughout the book "It's okay to forgive yourself, and to love yourself!"
Not a big fan of love triangles. Especially since I always have the worst lucking picking the right guy. I pick a guy then the author turns him into a horrible person who was actually evil from the very beginning. The way that Rachelle jumps from "I don't like you" to "I somewhat trust you" than "I love him" until falling on "I don't trust you." It was just this ping pong game of feelings. It got old really fast for me.
I did really enjoy how there wasn't an insta-love thing going on though. I didn't really like the romance at all in this book but I was glad that it took a backseat. That was the saving grace for me.
So overall I enjoyed most of this book, I just ranted about the things that I didn't like. Not sure if I am going to read Cruel Beauty, but I will be adding it to my to-read on goodreads to think about it. If you want a retelling on Little Red Riding Hood don't read this book, but if you want an original world full of lore, magic, and monsters, this is a good book to read. I would have enjoyed this book so much more if I wasn't looking for hidden fairy tale similarities. So you will be fine and probably really enjoy this book, if you read this book expecting nothing and just let the Great Forest grow around you.
Happy Reading!